Panhandle Lifeguard Olympics 2000

Read below to see an article about the Olympics and some pictures of the teams.
Click here to see event descriptions.
Please read the list of businesses and individuals who helped sponsor this event. It wouldn't have been possible without their help.


On July 16, lifeguards from Crawford, Chadron and Hemingford gathered at the Crawford Swimming Pool to compete in the first Panhandle Lifeguard Olympics. Events for the evening challenged lifeguarding skills and encouraged teamwork. They included water basketball, a rescue tube relay, passive victim rescue, an inner tube relay, the Ultimate Lifeguard Competition and camel races.

Third place overall went to the Crawford Splash Monkeys. Team members included Back row from l to r: Sarah Castro, Nathan Seidel, Matt McCroden, Tiffany Storbeck and Heather Hughes. Front Row from l to r: Brandy Storbeck, Phaedra Green, and Courtney Bosak.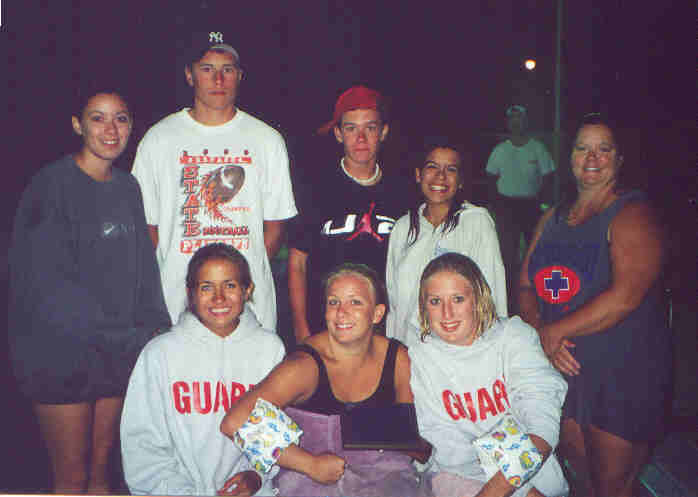 Second place overall went to Chadron. Team members included Amanda Bartels, Nick Dressel, Susan Holmes, Tim Holmes, Brock Musgrave, Jen Schaer, and Shane Shepard.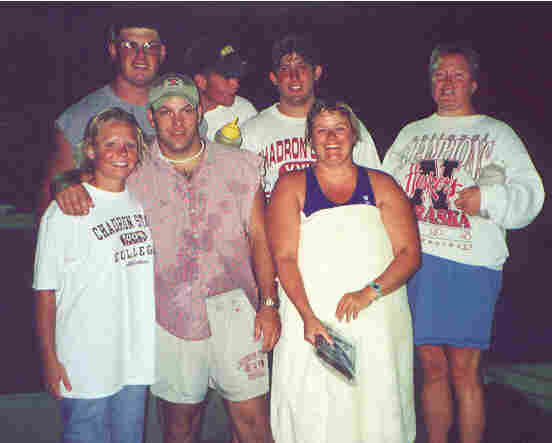 First place went to Hemingford. Team members included Chad Armstrong, Silas Cheek, Kara Haas, Lisa Haas and Holly Reed.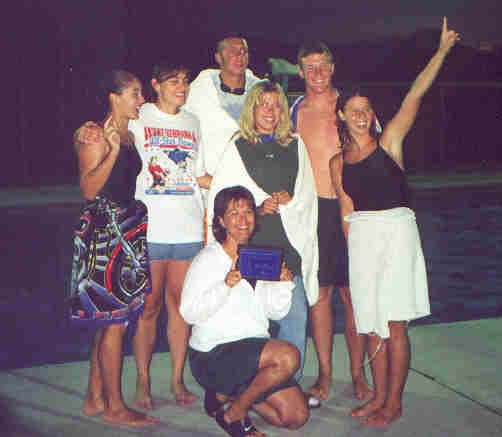 In the passive victim rescue, guards entered the water, approached a passive victim, performed a proper rescue and towed the victim to the side with the aid of a tube. The fastest three times were Silas Cheek of Hemingford with a time of 27.11 seconds, Brock Musgrave of Chadron with a time of 26.92 seconds, and Chad Armstrong of Hemingford with a time of 25.94 seconds.

In the Ultimate Lifeguard Competition, contestants swam 56 yds, rescued a victim in the shallow end, ran 28 yds, helped a victim to the side using the shepherd's crook and dove down 12 feet to get a five pound diving brick. Third place in this event went to Chad Armstrong with a time of 1 min. 12 sec. Second place went to Silas Cheek with a time of 1 min. 7 sec. First place went to Brock Musgrave, the Ultimate Lifeguard, with a time of 1 min. 4 sec.

Each team received a plaque and prizes donated by local businesses and individuals . Refreshments were served after the event.

The event was coordinated by Brandy Storbeck with the help of the Crawford lifeguards.


Rescue Tube Relay: Heather swimming in the water.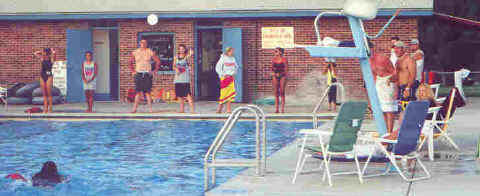 Rescue Tube Relay: Brandy gets ready to go.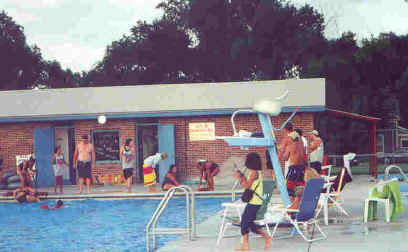 Looking at the prizes.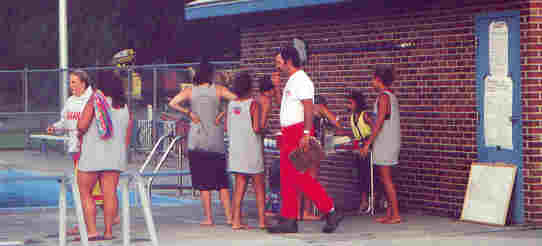 The Chadron team hanging out after the event.