Welcome to the Crawford Swimming Pool website. We offer many activities such as swimming lessons, open swim, lap swimming, and aerobics. All in a beautiful swimming pool located in Western Nebraska.
Look at that! We made the FRONT PAGE of the Chadron Record!!!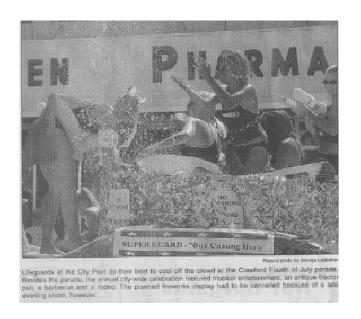 Thanks to the judges of the float competition at the Fourth of July Parade in Crawford, we did NOT win anything. However, the crowd must've liked us!!!
This site is also the home of the Panhandle Lifeguard Olympics. Come and watch lifeguards from the area compete against each other in fun events. This year promises to be bigger and better than last year! Donations for the event are appreciated.
POOL HOURS:
The Crawford Swimming Pool is open from Memorial Day weekend to approximately Labor Day.

Open Swim Hours: 1:00 p.m. - 5:00 p.m. and 6:00 p.m. - 8:00 p.m. daily.
4th of July Hours: 1:00 p.m. - 6:00 p.m.
Lap Swimming/Aerobics Hours: Monday - Friday 9:00 a.m. - 10:00 a.m. and Monday - Thursday 5:00 p.m. - 6:00 p.m.
We hope you enjoy your swim!

Visitors since May 31, 2001

Last updated: 04/09/2002
1st & Reed St.
Crawford, NE 69339
(308) 665-9919
crawfordpool@hotmail.com